Black Friday month is the biggest sales event in a year for both shops and shoppers. Black Friday is a big shopping day since stores offer attractive promotions and high discounts. Although it originated in the US, it has become popular in Europe in recent years.
Important Dates for the Black Friday Month
Shopping Season Calendar November 2021
| | | | | | | |
| --- | --- | --- | --- | --- | --- | --- |
| Monday | Tuesday | Wednesday | Thursday | Friday | Saturday | Sunday |
| 1 | 2 | 3 | 4 | 5 | 6 | 7 |
| Beginning of Black Friday Month | | | | | | |
| 8 | 9 | 10 | 11 | 12 | 13 | 14 |
| | | | | | | |
| 15 | 16 | 17 | 18 | 19 | 20 | 21 |
| | | | | | | |
| 22 | 23 | 24 | 25 | 26 | 27 | 28 |
| | | | Thanksgiving Day | Black Friday | Small Business Saturday | |
| 29 | 30 | | | | | |
| Cyber Monday | Giving Tuesday | | | | | |
Shopping Season Calendar December 2021
| | | | | | | |
| --- | --- | --- | --- | --- | --- | --- |
| Monday | Tuesday | Wednesday | Thursday | Friday | Saturday | Sunday |
| | | 1 | 2 | 3 | 4 | 5 |
| | | Beginning of Christmas Season | | | | |
| 6 | 7 | 8 | 9 | 10 | 11 | 12 |
| | | | | | | |
| 13 | 14 | 15 | 16 | 17 | 18 | 19 |
| | | | | | | |
| 20 | 21 | 22 | 23 | 24 | 25 | 26 |
| | | | | Christmas Eve | Christmas Day | |
| 27 | 28 | 29 | 30 | 31 | | |
| | | | | New Years Eve | | |
31 October 2021, Sunday: Halloween
The month of October ends with Halloween celebrations. With the end of October, a new month, "Shopping Month November", starts. Consumers move away from the spooky season and Halloween spirit and get into a shopping spirit for the holiday season.
1 November 2021, Monday: Beginning of Black Friday Month
At the beginning of November, consumers start shopping for both themselves and others, including Christmas shopping. Accordingly, many eCommerce stores start their discounts at the beginning of November to give consumers more time to shop.
25 November 2021, Thursday: Thanksgiving
The fourth Thursday of November is celebrated as Thanksgiving Day in the United States. The significance of the day is that Americans celebrate the harvest and other blessings of the previous year. As a result, consumers tend not to shop on this day but celebrate it with their friends and family with dinner.
26 November 2021, Friday: Black Friday
Black Friday is the fourth Friday of November and is considered the biggest shopping day throughout the year. Therefore, many eCommerce businesses market their discounts for consumers, and consumers tend to do the shopping for the sake of Black Friday.
Buy Nothing Day: This day is an international day of protest against consumerism and over-consumerism. It is held on the same day as Black Friday and aims to decrease unnecessary spending, especially during Black Friday and Christmas.
27 November 2021, Saturday: Small Business Saturday
Small Business Saturday, which began on November 27, 2010, in the US, is a counter-cyclical to Black Friday and Cyber Monday, which showcase big-box retailers and eCommerce companies, respectively. Small Business Saturday, on the other hand, encourages Christmas shoppers to support small, locally-owned businesses.
The weekend between Black Friday and Cyber Monday is the continuation of the shopping season's discounts.
28 November 2021, Sunday
Cyber Weekend continues on the Sunday between Black Friday and Cyber Monday. Since it is a weekend, shoppers tend to have more time to do their shopping. Additionally, the discounts and promotions are still on this date.
29 November 2021, Monday: Cyber Monday
Originally, Cyber Monday was a day for eCommerce businesses to promote their discounts for their customers. However, at the moment, Cyber Monday is one of the most important shopping days for both the sellers and the buyers. New discounts are presented to consumers on this day to encourage shopping.
30 November 2021, Tuesday: Giving Tuesday
Giving Tuesday encourages people to participate in activism in helping their communities. After spending high amounts of money on products for themselves and their families, this day promotes donating to organisations to help others.
1 December 2021, Wednesday: Beginning of Christmas Season
The end of November and the beginning of December means the beginning of the holiday season. Communities that celebrate Christmas, or even those that do not, start decorating their homes and environments. The beginning of the Christmas season also means that people start planning their Christmases and buying presents for their friends and families.
24 December 2021, Friday: Christmas Eve
Christmas Eve is considered to be the final day of the shopping season. Most people are already done with their Christmas shopping in mid-December, but for people leaving it to the last minute, shops keep their Christmas-related products on their shelves.
25 December 2021, Saturday: Christmas
Overall, the two months of shopping is primarily because of Christmas. Christmas is celebrated differently in different countries and cultures. However, the mutual point is that it encourages spending and buying gifts. Christmas Day tends to be less intense for stores.
31 December 2021: New Years Eve
New Years have higher importance for communities that do not celebrate Christmas, and people tend to exchange presents on this date. This day is considered the unofficial end of the shopping season. And with the start of the new year, shops and eCommerce stores shift their marketing strategies according to the new year trends.
Historical Background of Black Friday
The term Black Friday was used after a stock market crash on September 24, 1869. On that day, many investors went bankrupt as gold prices hit bottom after an extreme increase created by speculators. Later, other stock market crashes were referred to as black days.
Black Friday, referring to the day after Thanksgiving, was first used in a journal in November 1951 and 1952, informing that workers did not appear at work due to illness to have a four day weekend. Around the same time, the Philadelphia & Rochester police started to use this term to describe the traffic jam due to the start of the Christmas shopping season.
Since 1952, the day following Thanksgiving has been considered the start of the Christmas shopping season in the United States. The practice may have something to do with Santa Claus parades. Department shops sponsored several Santa or Thanksgiving Day parades in the late 19th and early 20th centuries. Department retailers would use the parades to begin major advertising campaigns. It eventually became an unwritten rule that no business would attempt to advertise Christmas until the procession was done. As a result, the day following Thanksgiving became the official start of the holiday shopping season.
Franksgiving
In the 1930s, the link between Thanksgiving Day and Christmas shopping sparked debate. Retailers would have preferred an extended shopping season, but no business wanted to be the one to break with tradition and begin advertising before Thanksgiving. In order to extend the Christmas shopping season, President Franklin D. Roosevelt issued a presidential proclamation in 1939 declaring Thanksgiving to be held on the fourth Thursday of November rather than the final Thursday, a week earlier in certain years. The majority of people accepted the President's decision, which was later confirmed by a congressional act, although many others remained to celebrate Thanksgiving Day on the customary date. As a result, some people began calling the new date Franksgiving.
How Was Black Friday Before?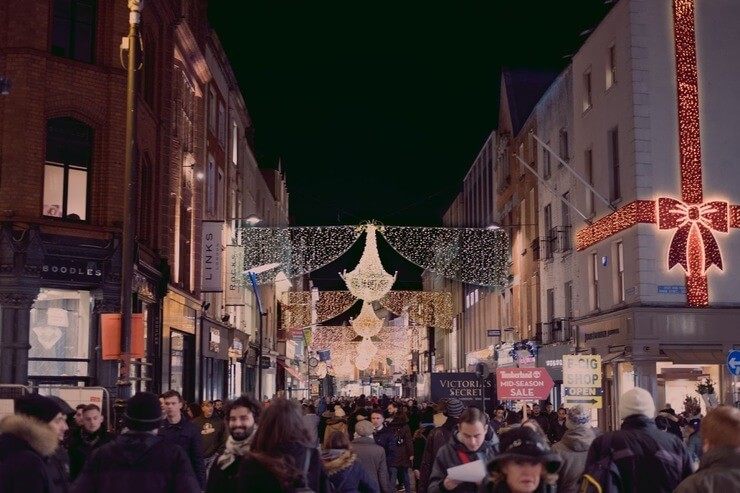 For years, stores have pushed Black Friday opening times earlier and earlier, finally nearing midnight, before starting on Thanksgiving evening. For example, Kmart opened at 7 p.m. on Thanksgiving in 2009 to escape Black Friday traffic and be home in time for Thanksgiving dinner with their family. As a result, the media coined the phrases Black Thursday, Gray Thursday, and Brown Thursday when more stores followed the trend.
Black Friday deals have traditionally lasted into the weekend following the holiday. However, in recent years, this practice has virtually vanished, possibly due to merchants' efforts to generate a stronger feeling of urgency.
Cyber Monday
The term was coined by Ellen Davis of the National Retail Federation and Scott Silverman. It first appeared in a Shop.org press release on November 28, 2005, titled "Cyber Monday' Quickly Becoming One of the Year's Biggest Online Shopping Days." Retailers developed it to entice people to shop online. According to retailers, many consumers who were too busy or did not find what they were searching for over the Thanksgiving holiday looked for bargains online on Monday from home or work.
Cyber Week
The term Cyber Week was first mentioned in a Forbes Entrepreneurs article on December 3, 2013. It stated that "In the spirit of not freezing up or crashing down when the hoards of online shoppers come calling this Cyber Week."
From the fourth Thursday, "Thanksgiving", to the following Monday, "Cyber Monday", retailers consider the five-day shopping weekend as Cyber Week.
How Is Black Friday Now?: Black November
The day Black Friday used to be the signal for the start of the shopping season, and Christmas Eve used to be the end of it. However, this shopping calendar is becoming obsolete as merchants often offer offers earlier in November – sometimes as early as the end of October.
Today, Black Monday and Cyber Monday are still iconic occasions that significantly impact both consumers and businesses. However, currently, they are considered as an extended shopping season.
The reaction to shopper behaviour is to start sales earlier in November. As early holiday shopping increased, retailers changed their sale schedules. According to polls performed by the National Retail Federation and Prosper Insights & Analytics in 2019, 56% of buyers began buying holiday gifts around the first week of November, up from 48% in 2009.
For the entire month of November, retailers had to arrange their sales to keep customers' attention deliberately. Instead of giving storewide blanket offers throughout the month, some shops promote deals on certain product categories over specified days or weeks.
Cyber Black Friday
Even though Cyber Monday was created to promote online shopping, as of the last few years, online eCommerce shops' sales are spread to the whole month of November. This is because consumers are transiting into buying online and going less to physical stores. As a result, the term Cyber Black Friday is used for the online version of Black Friday. eCoupons.com coined the term in 2009 after seeing that online shops began their holiday deals before Cyber Monday to compete with the Black Friday brick and mortar stores.
Europe has experienced significant growth in online sales on Black Friday in recent years, as expected due to the COVID-19 pandemic. However, the pandemic also led to a change in customer preferences. Since previously, Black Friday was marketed towards consumers buying products they want at a discount. Though, in the present with COVID-19, consumers have become more careful with their spending and tend to purchase products they need, not necessarily what they want.
Sectoral Analysis for Black Friday
Fashion
In the earlier years, Black Friday sales were done mainly by fashion companies. Companies discounted their previous season's clothing items that were not sold during the season. Currently, this is still the trend, and companies put discounts on their non-sold items.
A thing to consider is that the fashion industry has transitioned online a lot before many other industries. Therefore, consumers for this category are more used to online shopping, so eCommerce stores emphasise their websites, digital marketing and social media strategies.
The online traffic of Black Friday 2020 grew 48% compared to the previous week. Hence, suggesting that Black Friday has the most significant impact on the fashion industry regarding the influx of online shoppers.
Read more about the fashion eCommerce trends under the COVID-19 effects here.
Electronics
Cyber Monday was initially used to promote online shopping. However, since online shopping grew rapidly and people shop online during the whole month of November, the Electronics industry used this phrase to promote their electronic products. According to research by PWC, the electronics industry had the highest percentage of share in the 2020 Black Friday sales.
September and October – the beginning of Autumn- are the months where electronic giants Apple, Samsung, and Huawei launch their new products. The following month, November is called the Black Friday month. Therefore, putting high discounts on their recently launched products does not happen. However, some other electronics sellers such as Best Buy and Amazon may put a fraction of discounts on the recently launched products.
Moreover, electronics stores tend to put higher discounts on their old products to make the older products more attractive for consumers. However, since these products are electronic devices, discounts and promotions are not as high as in the fashion industry.
Christmas Stocking Fillers and Treats
The shopping season is meant initially shopping for Christmas presents and treats. PWC's research shows that most sectors experienced a decrease in their Black Friday sales in 2020 compared to 2019. COVID-19 had a significant impact on this occurring. Firstly, most countries closed physical stores; therefore, the revenue from offline shopping declined dramatically worldwide. Secondly, COVID-19 also led to a mini economic recession; consumers lost their jobs or earned less compared to last year. This resulted in consumers being more attentive in buying new products during the holiday season.
However, one thing that COVID-19 did not change was Christmas. People continued celebrating Christmas and buying presents for their friends and family. So, instead of buying products that consumers wanted, consumers did the minimum but necessary shopping for Christmas presents.
The Christmas stocking fillers and treats sales increased from 28% to 31% on Black Friday 2020. This shows that consumers tend to cut on their personal spendings in economic downfall times, but not necessarily on presents to others.
Black Friday 2021 Predictions
This year's Black Friday will be on Friday, November 26th, and Cyber Monday will be three days later, on Monday, November 29th.
As of 2021, the Black Friday phenomenon is not as exciting as it used to be in the last decade. Shoppers are more used to Black Friday deals and promotions, and there aren't as many queues in front of shops anymore.
Retailers' Black Friday Predictions
The most obvious prediction for 2021 Black Friday is that, with COVID-19 still ongoing, online shopping will continue to increase, and shoppers will buy more products online than offline. Both world giants and small businesses have been preparing for Black Friday since the summer and aim to get the most out of Black Friday 2021. As a result, retailers are giving more stress to their websites and online campaigns. Offline campaigns will probably be similar to the online campaigns, or fewer campaigns offline.
Consumers' Black Friday Predictions
As for the consumer perspective, since Black Friday and huge sales events aren't as exciting or different anymore, consumers will be more prepared for the shopping season. Consumers now control the Black Friday sales events more than in the past.
According to research from Conlumino, 75% of consumers would rarely buy certain products at full price, and 62% say they wait to buy until a product is on offer or discounted. Therefore, when stores do not discount certain products on Black Friday or just put small deals, consumers will not rush to buy the product but wait for the price to decrease enough for their budget.
2021 Predictions
The unofficial Black Friday month sales events start right after Halloween, on 1 November 2021 and will end on 24 December 2021. Therefore, consumers should plan their budget and shop over the two months. Nearly all eCommerce and brick-and-mortar stores will have discounts and promotions during this period. Therefore, there is no need to rush.
On the other hand, eCommerce stores will do their best to provide the best website and shopping experiences for their customers to have higher return rates. Stores will use marketing strategies such as decreasing the landing page's loading speed, eye-catching headlines, strong page designs, and personalisation and segmentation tools.
Check out this detailed Black Friday Cyber Monday 2021 Digital Marketing Guide for eCommerce stores. It is a must-read for both big and small eCommerce owners to enhance their sales on Black Friday and get recognised by consumers. Segmentify offers the smartest personalisation and segmentation solutions using Artificial Intelligence on the market for eCommerce businesses to provide the best shopping experience to their customers and significantly increase their Black Friday Cyber Monday sales. There is a 14-day free trial available; all eCommerce stores should try it out before Black Friday 2021 comes.