After the boom of online shopping and eCommerce in 2020, retailers had to face some severe problems and challenges in 2021. Issues with global supply chains and trade routes disrupted world trade significantly. CNN reports that the shipping costs are skyrocketing because the worldwide supply chain is badly tangled. This entanglement will create a backlog at the ports, which will cause the warehouses and road and railroads to overload, which will cause product shortages. As a result, eCommerce stores will have their plates full with many challenges to overcome. But there's another critical question that needs answering: What opportunities will eCommerce stores have in 2022? What new trends will the new year bring for online retailers?
1. Omnichannel Approach
Thanks to the Internet, consumers have never had this much choice when it comes to shopping. However, this is somewhat of an Achilles' heel for online retailers: If the needs and standards of consumers are not met, the consumers will leave and find a brand that can offer the expected standard and much more. Getting loyalty is more important than ever, while it is also more difficult than ever to keep.
With more customers going online and loyalty becoming harder than ever to attain and keep, it is more crucial to have a constant and cohesive presence throughout different channels and pages. The right way to tackle this issue goes through understanding what is needed by your customers.
Connecting with your customers through different channels is the key to this problem. Adopting an omnichannel presence will help you understand the differences in generational preferences. In addition, by offering a variety of channels to connect, you will be giving them the chance to use and interact with their chosen medium.
2. Mobile Commerce
After the outbreak of the COVID-19 pandemic, mobile shopping rose high in popularity. According to PwC, 45% of consumers have increased their usage of mobile phones while shopping online in 2020. In addition, Gen Z and Millennials are using mCommerce more than any other generation, so that part of the eCommerce market offers great potential.
Moreover, while the purchase step is the most significant part of mobile commerce, mobile commerce is not just about shopping. Consumers use mobile channels at different parts of the buyer's journey. For example, people look at online gift guides and read online reviews before buying gifts during the holiday shopping season.
The main takeaway is that you should optimise your eCommerce website for mobile. Always put user experience at the front of your mind during and after the design process as the digital world changes too fast. Keep your eye out for new technologies and trends to make the necessary changes as they emerge.
3. Influencer Marketing
Influencer marketing has been around for some years now. It seems that this will not change in the future as well. In 2021, the growth in influencer marketing is expected to be $13.8 billion; this will only get bigger in 2022.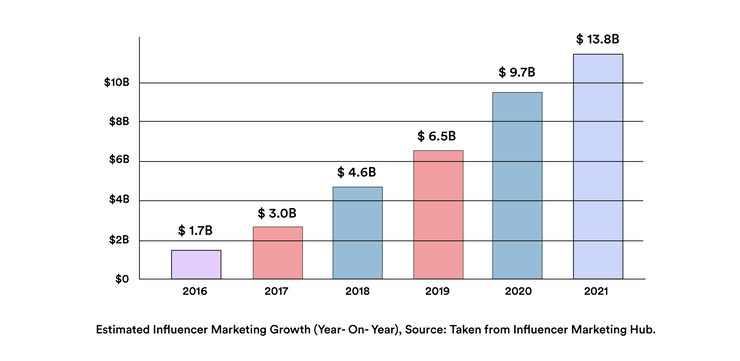 Influencer marketing is mainly preferred because it increases brand awareness since it has a higher reach and creates more exposure. In addition, it allows for a more diverse approach to content creation for the brand. While it is true that many brands say they employ influencer marketing mainly to get discovered and to create brand awareness and not to generate more sales, it might change with the social media platforms allowing you to shop through them.
However, two essential things to keep in mind: Firstly, the connection between the brand and the influencer has to make sense. You cannot just select someone simply because they have a high follower count. Remember that it's essential to create meaningful relationships with your customers based on honesty and trust! The second one, be mindful in deciding the medium of your content. Is it going to be a photograph, a short video or reels? Pay attention to what the social media platforms are doing with their algorithms! Last year, Instagram's CEO Adam Mosseri recently announced that ads would be added to the Reels. Since then, Instagram has been promoting reels content more than any other type of content on the app.
4. Social Commerce
Social media has been an inseparable part of our lives for quite some time. And for the past couple of years, social media platforms such as Instagram, TikTok, Facebook etc., have become a staple part of online shopping. For one thing, they are great tools for creating brand awareness. Additionally, these platforms have become marketplaces themselves. The idea behind this is moving the purchase point closer to the consumers since people – especially younger generations – spend so much time on their phones.
TikTok is the latest social media platform to get into the eCommerce game. The company has been trying out integrating shopping features by partnering with companies such as Shopify and Walmart. And now, TikTok is offering its users shoppable links, live stream shopping, product galleries, and ads. Facebook, Instagram, and Pinterest dominate the US social commerce market. TikTok aims to dethrone Facebook as the leading social commerce platform with its new shopping feature.
TikTok has a great chance at succeeding at its mission to become the go-to social commerce platform. The popularity and virality of TikTok offer new and tremendous opportunities for brands. In addition, TikTok's popularity amongst younger generations will undoubtedly give them an advantage over Facebook. It's reported that 60% of Gen Z is on TikTok, while only 40% of Millennials use the app.
5. Live Shopping and Video Commerce
It's a known fact that videos are more engaging than photographs or texts. In addition, thanks to their easy to consume nature, videos offer more concise information. However, integrating videos to the brand's website or social media is not the only way to take advantage of this. A more dynamic approach is possible through live-stream shopping. Because it is live, video shopping lowers the possibility of image manipulation and increases customer engagement. Live-stream shopping originates from China, whose market was worth $66 billion in 2019 and is expected to expand geographically. With TikTok's new shopping feature, live shopping and video commerce will only get bigger in 2022.
6. Fast and Different Payment Methods
Consumers have different preferences when it comes to finalising their purchases. Most of the time, they are using more than one payment method, and if they cannot find the payment method they wish to use, they might abandon their cart without making the purchase.
While debit and credit cards are staple online payment methods, e-wallets (also known as digital wallets) are being used at an increasing rate. According to Billtrust, 46% of Gen Z use e-wallets 1-5 times a month, while 13% use digital wallets 6-10 times a month. The same research also suggests that while Gen Z is interested in investing in cryptocurrencies, 66% has stated that they do not prefer it as an online payment method. This might be interpreted as a sign of how much Gen Z values security.
Moreover, by 2025, more than 50% of purchases will be made using smartphones. Therefore, we can infer that payment methods like GooglePay and ApplePay will become more popular.
7. Augmented Reality (AR) and Metaverse
The most significant disadvantage of online retail is that customers cannot try the items. So, they cannot feel the products before making a purchase. Luckily, this problem might be solved with the help of Augmented Reality. What the AR technology does is that it allows potential customers to virtually try the items without moving from their spot. So, they can see precisely how a particular pair of sunglasses will look on them or how a sofa will look in their living room.
IKEA has been employing AR technology with their app Place since 2017, which allows the user to place IKEA products in their spaces virtually. Lately, they've been developing another app called IKEA Studio with the Copenhagen-based future living lab, SPACE10. This app aims to use AR to help people design whole rooms with correct measurements and everything. The downside of both of those apps is that you cannot purchase through them at the moment. You still need to use the IKEA app for making a purchase, which is not exactly ideal. Hopefully, they will integrate those apps together to offer a more seamless experience in the future.
In the latter half of 2021, there was one term we've heard more than any other: Metaverse. First, Mark Zuckerberg announced that Facebook would become a metaverse company in the future. Then, later in the year, there was a second announcement: That Facebook would now be called "Meta" and that it will be so much more than a social media company.
8. Virtual Reality (VR)
Also known as computer-simulated reality, VR offers an even more immersive shopping experience. At the moment, it's not widely accessible, but it's thought that this will change in the future. As VR sets become more accessible, they will be integrated into eCommerce.
The last two years we've spent under the restrictions that came with the COVID-19 pandemic taught us that despite the convenience online shopping offers, people miss the physical shopping experience. VR technology can help with that. For example, VR can enhance the online shopping experience by creating a virtual store that offers an in-store, face-to-face shopping experience.
9. Voice Search
Just like you can ask Siri or Bixby to call a specific person, you can use voice commands to browse through the products of an online retailer. Voice shopping is expected to reach $40 billion in 2022.
For the customers, voice search is very time efficient since it's faster than typing. As for the retailers, the most important thing is that you should optimise your eCommerce store for voice search. People will likely be using questions more frequently while using the voice command. We're curious by nature, so it's only natural to ask "what", "why", "when", "how", etc. If you answer these questions on your blog or FAQ page, you'll be one step ahead in the game.
10. New eCommerce Categories
Buying habits and patterns of consumers have significantly changed in the past two years. For example, groceries, hygiene products, and home essentials were seldom purchased online before the COVID-19 pandemic. Instead, people turned to online retailers for essential products. Social distancing rules and encouragements combined with the increased application of home offices led people to online shopping for categories that they rarely shopped with before.
As of yet, we don't know how long the pandemic will continue and how long we will be asked to socially distance. And even when the pandemic is behind us, it's expected that many consumers will continue to shop online for their groceries and home essentials.
11. Sustainability
In the light of clear and often signs of climate change, consumers are becoming more conscientious about the environment and how their actions affect it. Things like less plastic packaging, waiting to send multiple items in the same package, using environmentally friendly ingredients etc., are becoming more and more critical for them. In addition, research shows that Gen Z is willing to pay 50-100% more for sustainable products.
12. Independent Brands
Apart from green consumption, sustainability, and environmentalism, independent brands are another concern for the consumers. In 2020 and 2021, consumers were encouraged to help small businesses affected by the COVID-19 pandemic. As a result, they have been switching to shop from small local businesses 𑁋 a trend that will continue in 2020. Other reasons for shopping from independent retailers include the desire to own unique products, receive better and more intimate customer service, and support entrepreneurs.
13. Offline Experiences are Still Important
Just because most shopping is done online nowadays, it doesn't mean that you should ignore the brick-and-mortar operations. Offline operations are still significant; they are only somewhat changed. The focus should be on establishing a connection between physical retail and online retail. Practices such as BOPIS (Buy Online, Pick-Up In-Store) and BORIS (Buy Online, Return In Store) are expected to gain more traction. One successful application was observed by Target during the holiday season of 2021. They plan to continue to close their stores on the busiest days of the year to avoid the crowds and offer a safer shopping experience.
14. Customer Service with Chatbots
Customer service is an essential part of any business. Handling and solving customer queries are two different but equally important tasks. However, not every business can hire multiple people for this job. Chatbots are great tools for customer service, and they will definetly get more critical in 2022. More than 60% of US consumers prefer to use digital self-serve tools, such as websites, apps and online chat.
At the moment, chatbots may not work perfectly, but they are bound to become famous thanks to technologies like AI and machine learning. With the help of AI, chatbots can improve themselves based on their previous experiences and conversations.
15. Subscription
There are many successful subscription models such as Netflix, Spotify, Coursera, Amazon Prime, etc. On a surface level, eCommerce subscriptions offer consumers certain products and services at a regular price. On a deeper level, they are about connecting with customers and establishing solid relationships. Subscription schemes are useful in getting customer loyalty. In addition to that, subscription models offer higher retention rates and predictability.
Subscription models don't have to be exclusive for online entertainment and education. For example, subscription models can be extremely useful in grocery shopping since they are usually done at regular intervals. A subscription scheme would save the customers plenty of time since they will not have to browse thousands of products. Plus, a subscription model for online grocery shopping would be pretty handy for non-perishables because consumers tend to stockpile them.
16. Personalisation is still the most important aspect of eCommerce
As we've seen, many changes are expected to occur in the eCommerce industry in 2022. Nevertheless, there's one common theme to all points discussed here: Personalised experience is still the most important aspect of eCommerce.
Most of the eCommerce businesses in existence have more or less understood the importance of offering a personalised shopping experience to their customers. However, personalised notifications and emails are not enough anymore. What is needed is an even more unique and highly personalised shopping experience. BCG discovered that consumers are 110% more inclined to add more products to their cart and 40% more prone to spending more than initially planned when offered a highly personalised shopping experience.
Touchpoints where your customers frequently interact are critical. Find out what kind of personalisation is needed. Do you need product recommendations, site search, chatbot, or something else? If you need product recommendations, what kind? Complimentary or based on price?
This list might look intimidating but fear not! Segmentify is here to save the day! To experience the most intelligent (AI) technology with our personalised eCommerce store solutions or find out more about how to already know eCommerce trends, book a free demo!